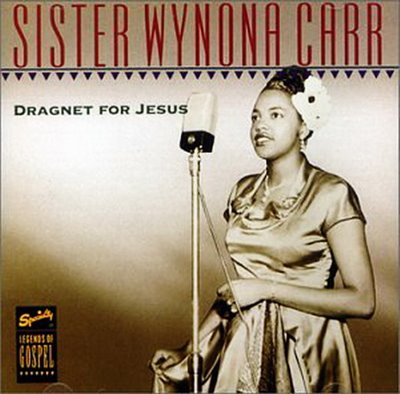 Marc, this is sister Wynona Carr, 1924-1976. If you click on the little X, her song "Life is a Ballgame" will play, recorded in 1952. Every Tuesday evening on 89.3 FM at 7 PM is the Gospel Hour hosted by David April. I called 215 674 8002 and requested it, and he played it. Great black gospel of the early fifties.

(below are Wynona Carr's lyrics.)

Jesus is standin' at home plate

Waitin' for you there

Life is a ballgame, but

You've got to play it fair.

First base is temptation,

The second base is sin

Third base tribulation

If you pass you can make it in

Ol' man Solomon is the umpire

And Satan is pitchin the game

He'll do his best to strike you out

Keep playin' just the same.

Daniel was the first to bat

You know he prayed three times a day

When Satan threw him a fast ball

You know he hit it anyway

Job came in the next inning

Satan struck him in every way,

But job he hit a home run

And came on in that day.

Prayer will be your strong bat

To hit at Satan's ball

And when you start to swing it

You've got to give it your all in all

Faith will be your catcher

On him you can depend

And Jesus is standing at Home Plate

Just waitin for you to come in.

Moses is standin' on the side lines

Just waitin to be called

And when he parted the Red Sea

He gave Christ is all-in-all

John came in the last inning

When the game was almost don

Then God gave John a vision

And he knew he'd all ready won.